Andrea Kasper Kunst

2016 Nominiert Berliner ART PRIZE / Ausgezeichnet Berliner ART PRIZE
www.art-management-berlin.de
2016 Artikel über meine Kunst 10.11.2016 im Artina Magazin

2017 ART AVITA Santa Barbara / USA- Nominiert Artist des Monats Februar-
2017 bekam ich eine Nominierung beim PALM ART AWARD
2017 Nominiert Laguna ART PRIZE Venedig
2017 Nominierung Artist of the Year 2017- Circle Foundation for the Arts- Frankreich

2018 Nominierung Circle Quarterly ART Review- Magazin Contest 2018/ Publication in the Winter 2018 issue of there magazin-
2018- Nominierung Palm Art Award- ( dieses Jahr mit drei abstrakten Arbeite

2018- 1. Preis - FEEL THE ART KUNSTPREIS
Wenn das Dorf im Winkel erwacht
2018 Recognition Prize Palm Art Award

2018 stelle ich einen Teil meiner Arbeiten im Kloster Brunshausen in einer Einzelaustellung aus.
2018 Ausstellung in Paris -
2018 Ausstellung in Göteborg
2018 Ausstellung Dezember Mailand ( Plastiken)

2019 Alassio - Gruppenaustellung -
2019 Kalenderwettbewerb Hahnemühle -Teilnahme-
2019 9.RecyclingDesignpreis/ Recyclingbörse Herford/Bielefeld - Teilnahme-

2019/2010 Kunstwinter Juist - "Schneller als der Moment" Fotografie/ Collage- Gruppenausstellung-
2020 -Gruppenausstellung Furore / Italien
2020- Berlin ( in Planung)
2020-Paris ( in Planung)
Publikation einiger Arbeiten:
HIMMELBLAU
ART COMPASS

Nähere, ausführliche Informationen zu Ausstellungen erhalten Sie bei Interesse gern per Mail.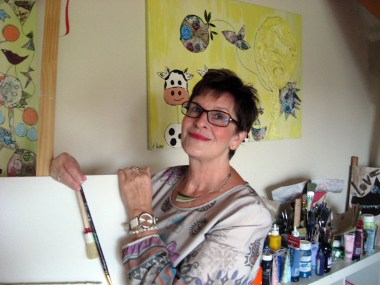 Sie haben sich in eine Arbeit verliebt? Doch diese Arbeit ist bereits verkauft!? Ich kann Ihnen gern stilistische Elemente die Ihnen gefallen, in ein für Sie kreiertes Werk einfließen lassen. Sie können dabei die Dimension bestimmen, und der Preis ist verhandelbar!

Gern können Sie mich bei Interesse kontaktieren: kasper.northeim@web.de