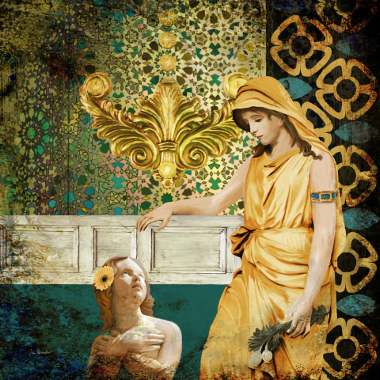 The Second Dream by Van Renselar
Alman Dalma by Van Renselar
VAN RENSELAR ARTIST STATEMENT
Van Renselar is primarily concerned with illustrating his own unique view of life using composition, colour and an ever-changing form of symbolism to create intriguing and strikingly different art. He takes ideas from experiences which are visual, cerebral and emotional in nature. As Van Renselar says, "I want to use my knowledge of colour, shape and form to make pictures which involve and intrigue the viewer. I take ideas from around and within me, using intuition and imagination to create a new context. Much of my work stems from my subconscious, where I see actions, events and ideas as particular images and colours. As some music can take on a different meaning after it has left the composer's pen, I encourage the viewer to create their own story about the meaning of the picture."

TECHNICAL DESCRIPTION OF VAN RENSELAR'S WORK

Van Renselar creates his pictures in 3 stages...

Firstly Van Renselar hand draws and paints all elements of each picture on paper, fabric, board, found objects or whatever comes to hand that he think will help create the effect he's after. He sometimes paint directly on screen (digital painting). There are typically 10-20 elements.

Secondly Van Renselar scans all these separate elements into a computer using a very high resolution scanner. At this stage he can place the elements exactly where he wants them and even make any adjustments to colours . Think of this stage as if you were making a collage. This results in a single computer file.

Thirdly, Van Renselar can now output (print) the computer file using the giclee process. Giclee needs to marry the inks and the canvas or paper to guarantee light fastness, and gives an incredibly high quality image.
ILLUSTRATIONS FROM LOST STORIES - THE ART OF VAN RENSELAR

Van Renselar grew up in South Wales, moving to Little Venice in his teens then on to Bromley, where he now lives and works.
As a contemporary abstract artist Van Renselar is more concerned with form and colour as an alternative to subject matter. It is not his aim to represent our surroundings or any particular object, he takes ideas from experiences which are visual, cerebral and emotional in nature. His inspiration can as easily be sparked by lines from a song as by an emotional event.

VAN RENSELAR'S WORK HAS FEATURED IN….
Art&Prose
NY Arts
China Arts Magazine
Art Fairs International
Absolute magazine
Picture Business
Insight
Good Housekeeping