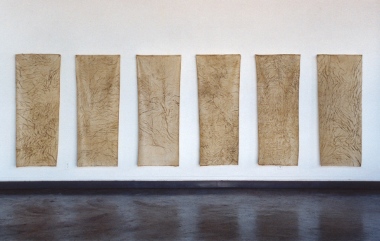 I paint images of insects, skin, fossils and other natural surfaces using beeswax, sediment, ashes, acrylic and raw pigments. Many of these pieces are preserved or captured in a fragile state of disintegration, like fossils. The action of layering sediments and pigments is similar to natural formations and geologic structures slowly formed over time.
I incorporate the passage of time into my paintings, and each layer represents a session spent with the work. The "Epidermis" and "Life Lines" series depict a certain documentation of aging - the process of drawing and having pigment embedded in the wrinkles and lifelines in my hands.
Cheryl Coon received a Master of Fine Arts, from the San Francisco Art Institute in 1992, and a Bachelor of Arts in French from Humboldt State University in 1989. She has had solo exhibitions at the Morris Graves Museum, and internationally at the Polymer Culture Factory, Katlamaja, Estonia and the Galerii Y, University of Tartu, Tartu, Estonia and the Physics Room in Christschurch, New Zealand. Awards include the Carl Djerassi Honorary Fellowship from the Djerassi Artist Residency program, a full sculpture fellowship to the Vermont Studio Center, and a Villa Montalvo residency.